Facilities Module
Increase your year-round facility rental income by letting your users reserve camp properties in your off-season and decrease your staff's work load by using the Tentaroo Facilities Module.
Provide one-stop shopping to your users when paired with the Events Module; users can use their login to see what's available and reserve at their own pace. Your users can self-book a campsite or climbing wall right from their phone.
Benefits
Easy management of properties.
Mobile access for rangers.
Accurate display of availability.
Reduces council staff work load & empowers volunteers.
Charge daily or per person rates.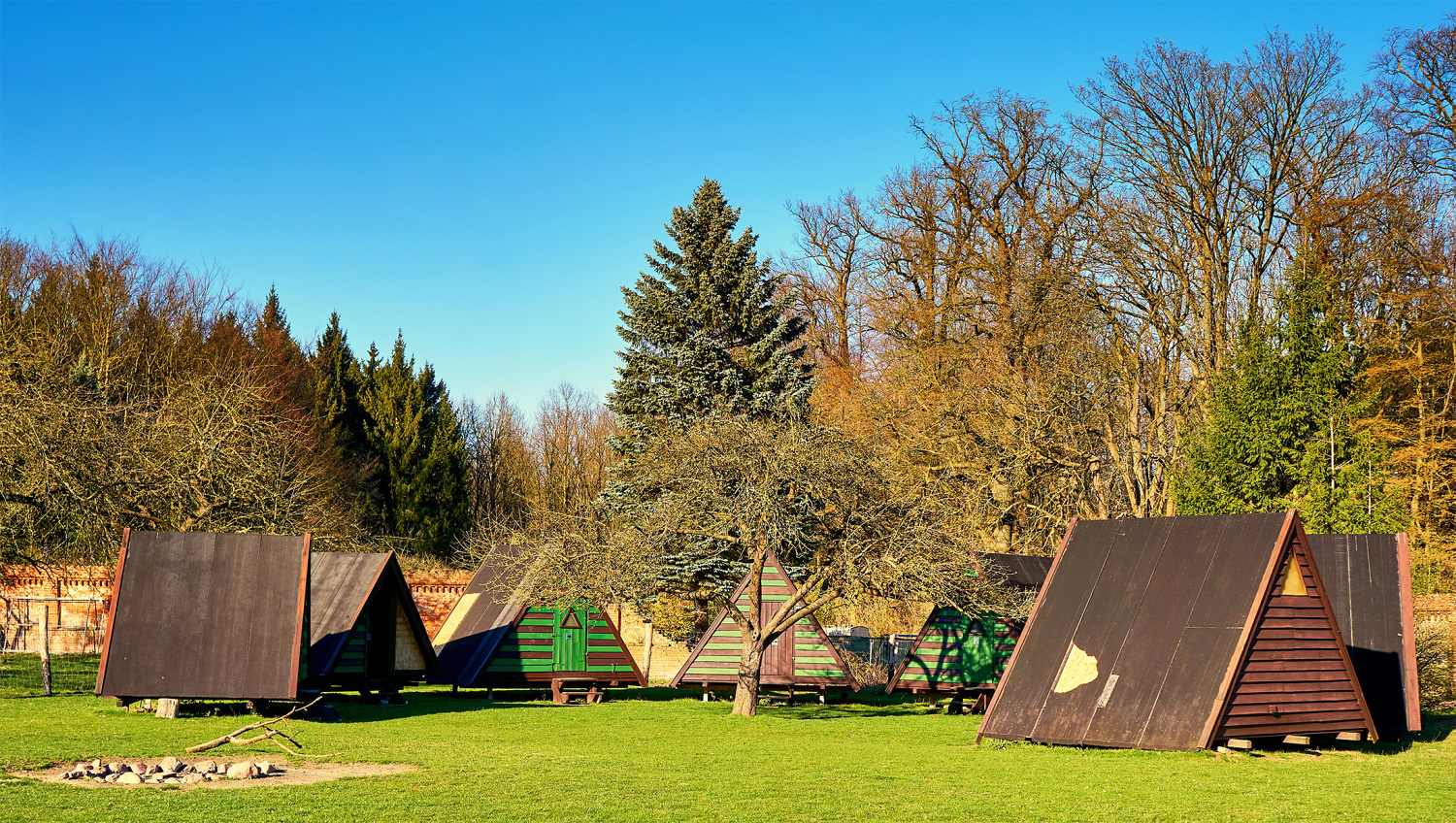 Common facilities and activities that can be booked include: campsites, cabins, buildings such as your dining hall, and activities such as a pool or a climbing wall.
Communication
Cut down on calls to the council office by letting units self-book camp properties and activities. Show off your facilities with as many photos as you want, descriptions, and other custom attributes (like whether or not a campsite has electricity).
Notifications can be sent to council staff and camp rangers. Council staff can log in at any time to pull reports with detailed information for upcoming reservations.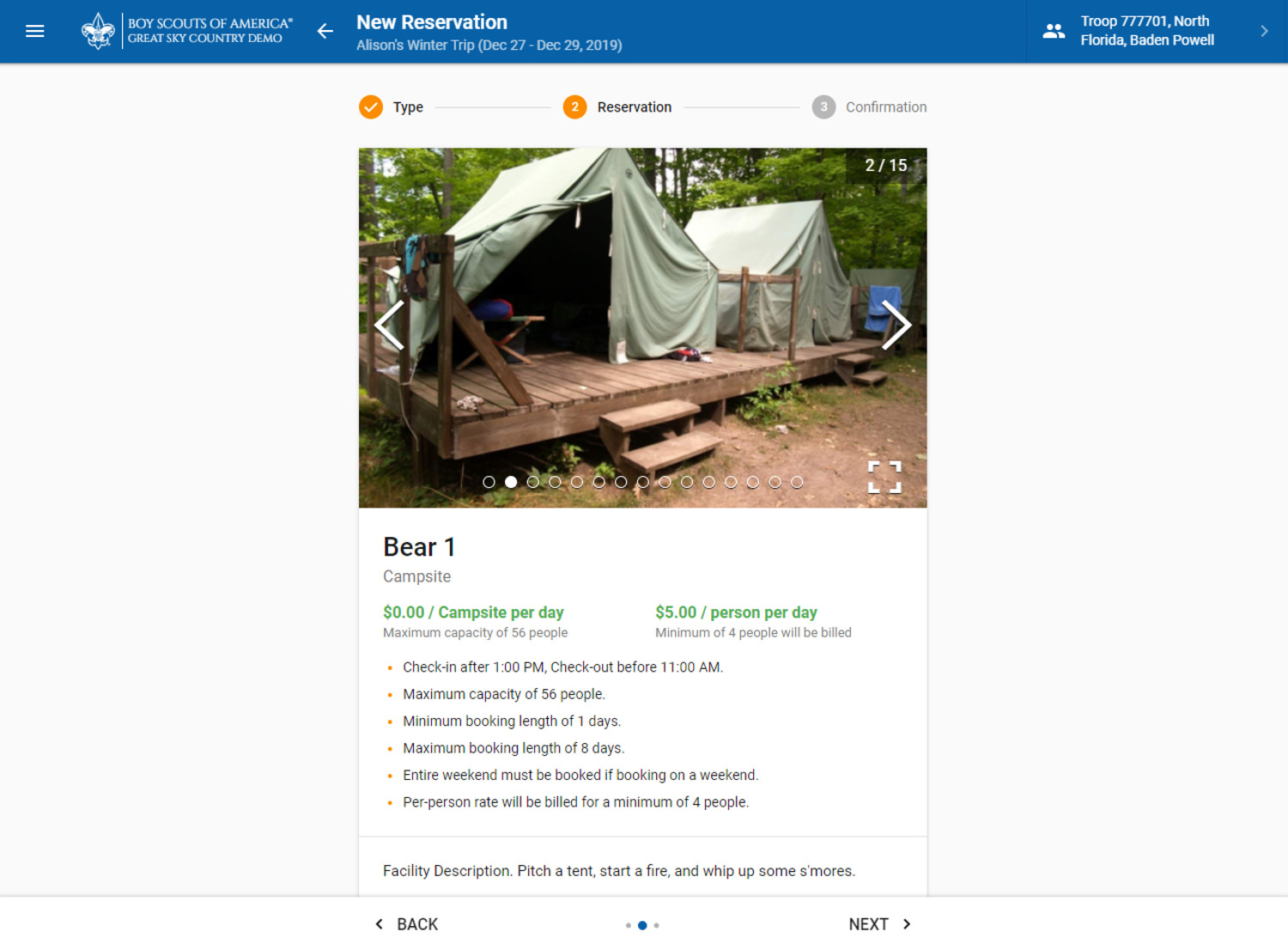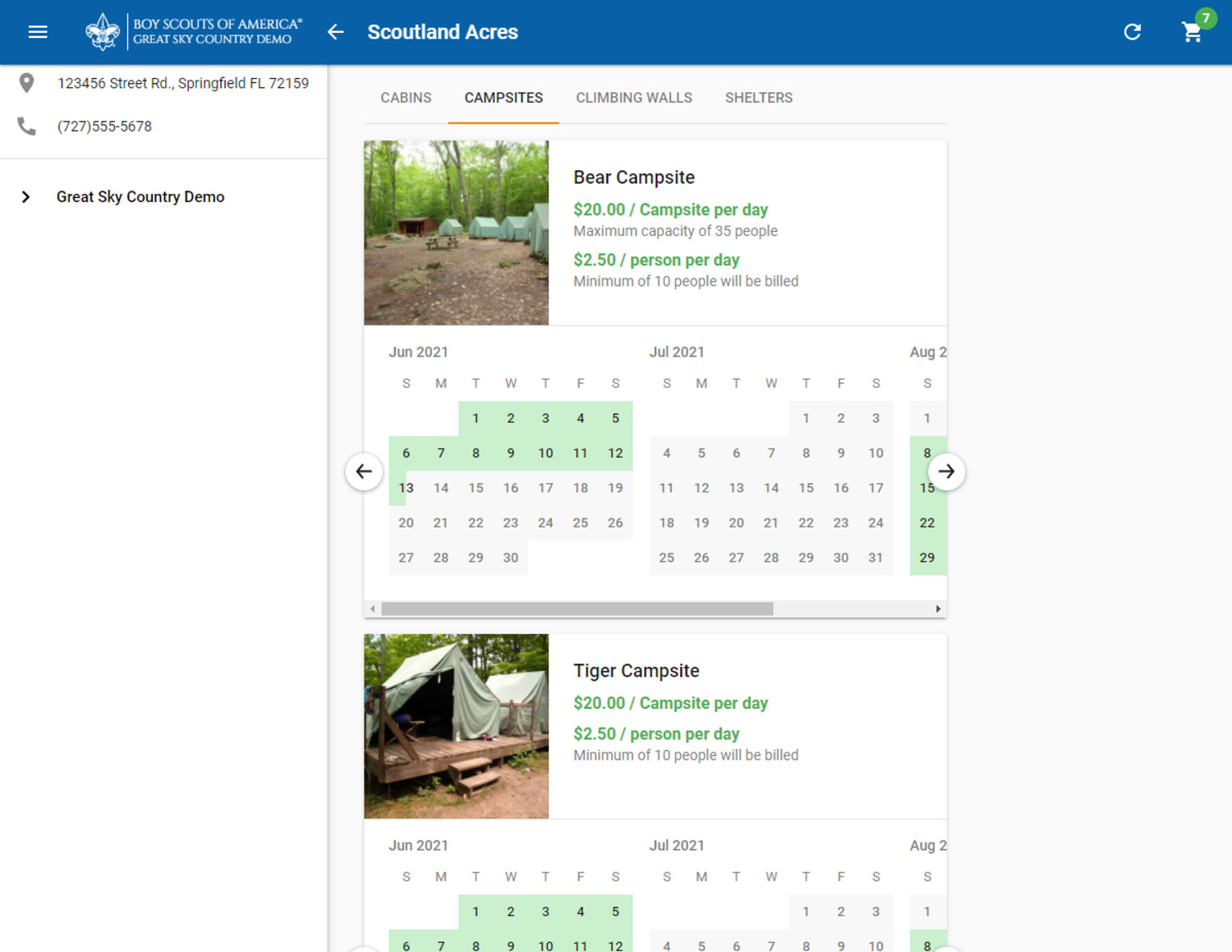 Units and Families
End users can access real-time availability and book whenever they want from any device. Users are guided through a simple reservation process to find an available facility, choose dates, and checkout.
Users can log in at any time to pull reports, make payments, or modify existing reservations.
Confidence
No more worries about double booking! The Tentaroo system prevents overlapping reservations for the same facility.
Add blackout dates for when your facilities are in use so your users can be guaranteed that any properties they book are available.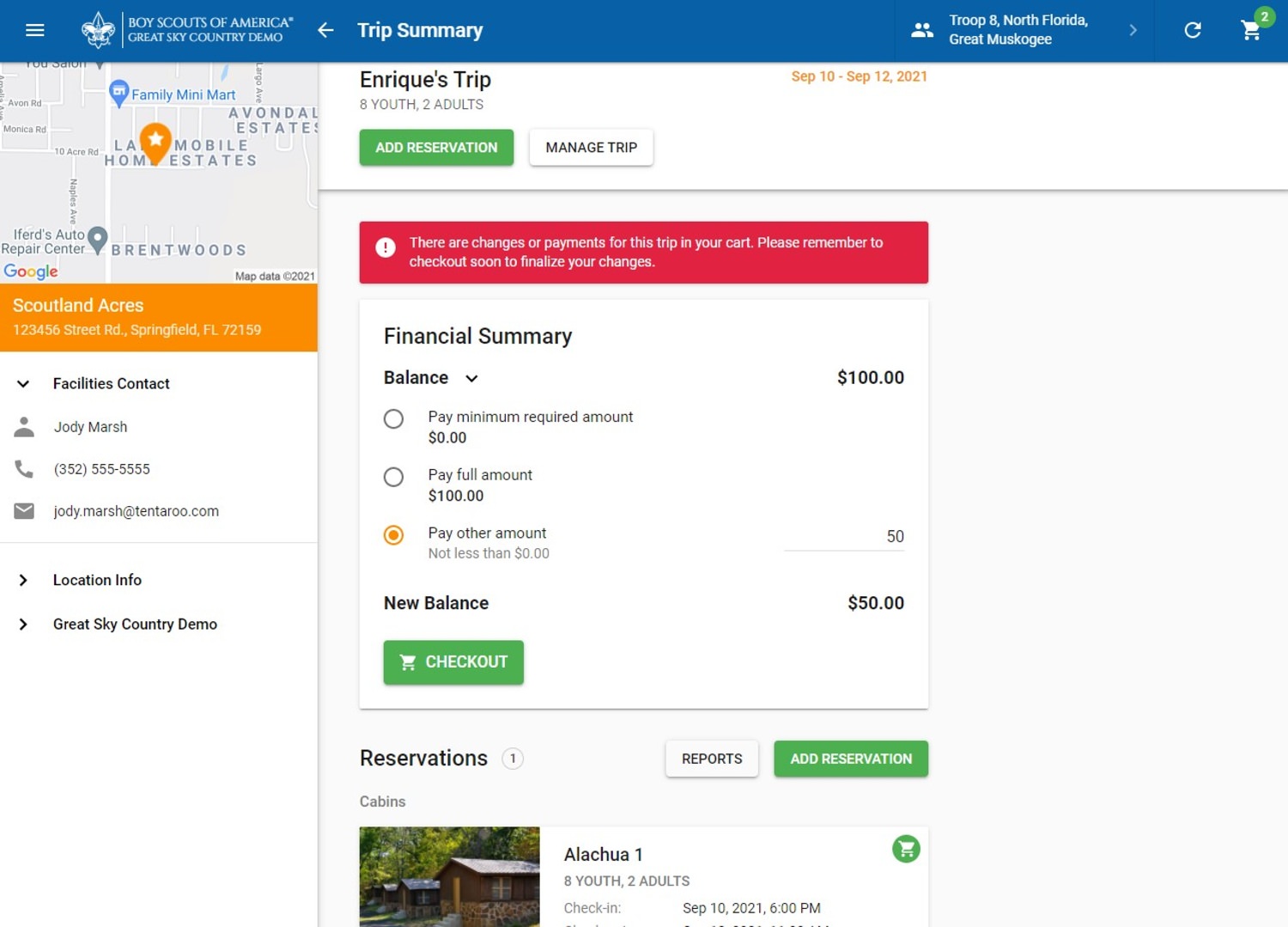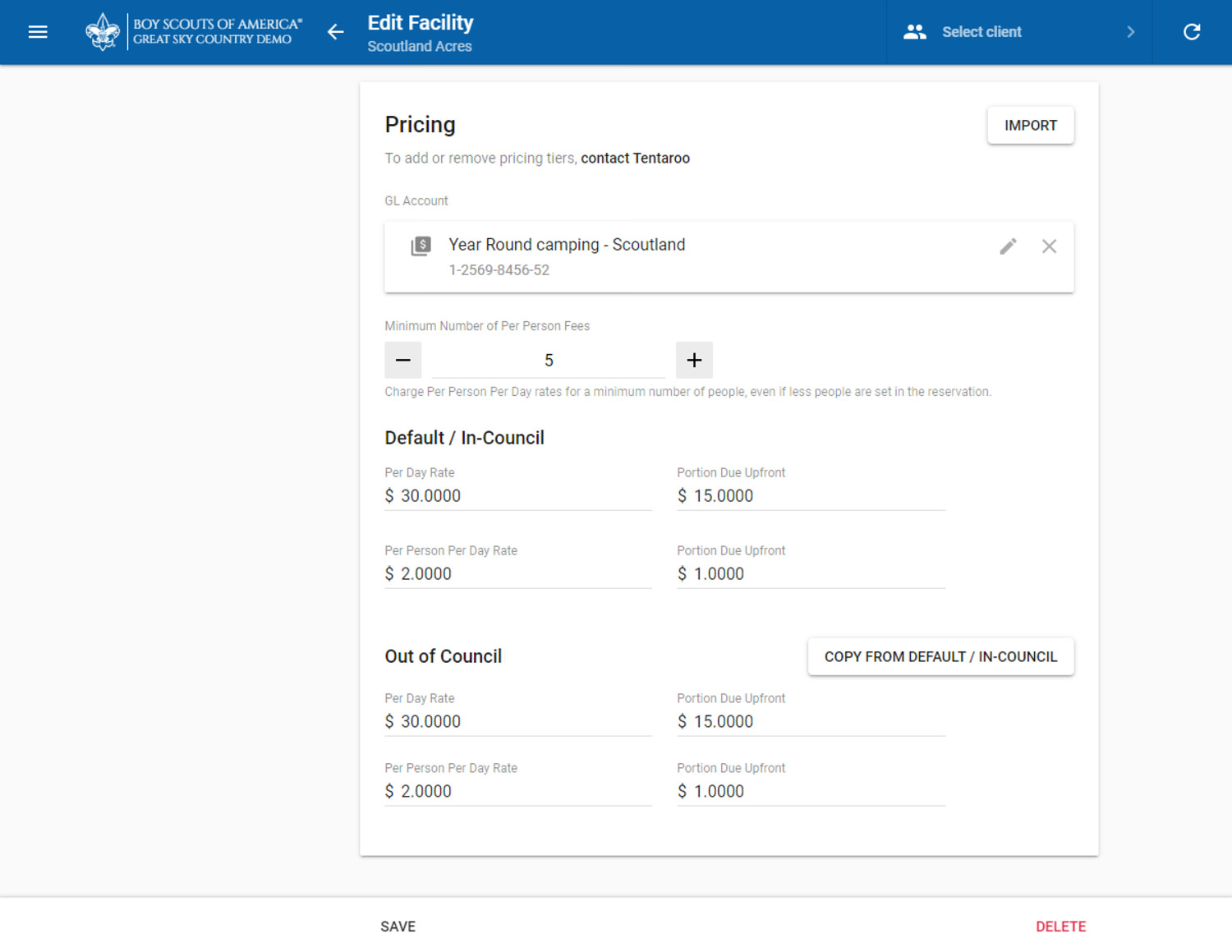 Pricing
Facilities and activities can be booked by the night, by the day, or by the time block (partial day). Pricing can be by the booking interval (per night/day/time block) and/or per person.
Supports tiered pricing such as in-council, out of council, and Non-BSA.
Collect any portion of the reservation fees upfront.
Booking Rules
The system enforces rules such as min/max booking lengths and max capacities. Set how far in advance bookings are allowed and how close to arrival a booking can be changed.
Enable/disable online booking for entire locations or specific facilities. Specific facilities can also be admin-only so only council staff can create the booking.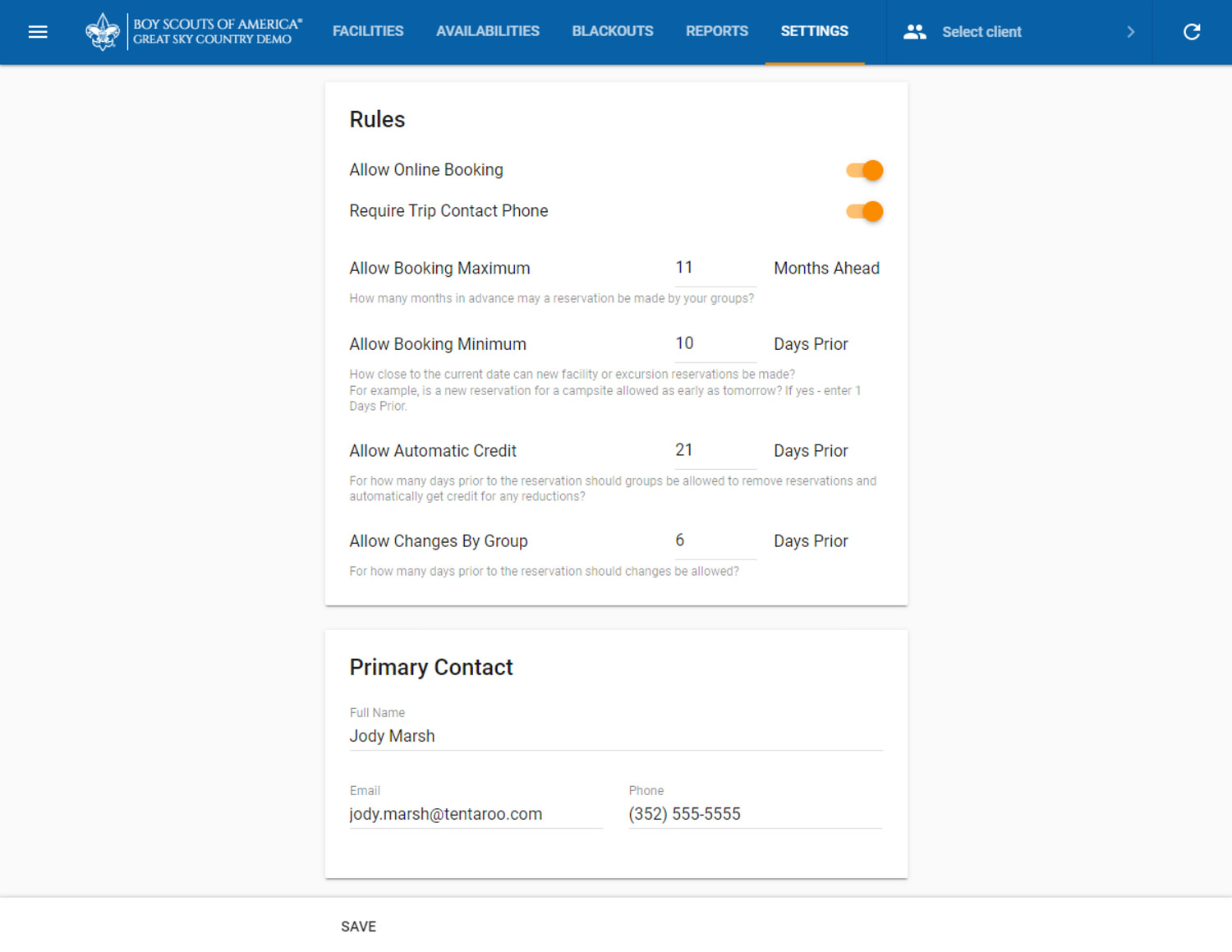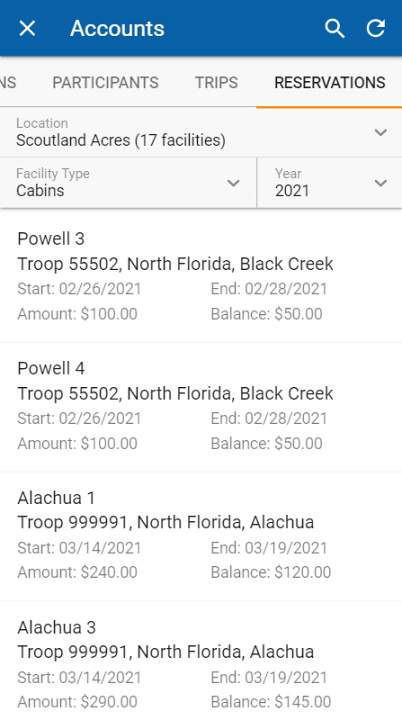 Camp and Council Staff
Give access to your rangers at camp so they can enter the final numbers for who shows up at check-in and accept any final payments. Rangers can also use the reports to see who will be coming and which camp properties they'll be using so they can prepare accordingly.
Keep track of internal use of camp properties using admin-only facilities. With this, council staff or district executives can book what they need for their events or meetings.
Facilities Module Pricing
Unlimited properties and facilities. No fees for blackout dates.
One-Time Setup Fee: $795
Start Your Transition Today!
All of the benefits of our Facilities Module and Form Builder are available to any council regardless of size and are supported with our outstanding customer service and training assistance. Our knowledgeable and experienced customer service team is always happy to answer questions or help with building your properties.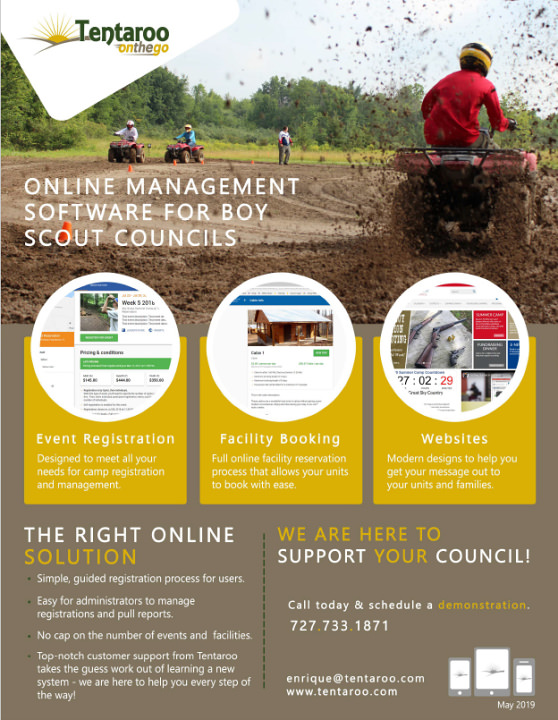 Success Story
Occoneechee Council
The Occoneechee, NC Council is a mid-size council with 250 units, 13,000 Scouts, and 6,000 adults. Kenna McIntire, Lauri Gillie, and Henry Goodson provided the feedback for this story.
In 2016, Occoneechee needed a better way to manage their merit badge program for summer camp, as they were frustrated with their current registration process. The council evaluated several products and, after working with Enrique Bellafieri, they selected Tentaroo's Event Registration Module. Because of how well the Events Module was working for the council, they decided to also start using the Tentaroo Facilities Module. Kenna mentioned several times how much better they are able to track payments through our system as well as run reports.
What our Councils Say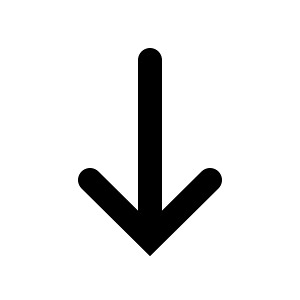 Piedmont - "Cut my phone calls in half in taking reservations over the phone."
LaSalle - "The new system looks like other professional reservation websites and is easy to use in mobile view."
Occoneechee - "We are getting more payments up front and our double booking problems have greatly diminished."