Websites Module
Professional websites are a must to keep your end users engaged with your council.
Updating your website has never been easier, faster, or more enjoyable. Focus on your Scouting program without worrying about the nuances of modern web design with easy-to-use tools to manage content.
We're so confident and proud of our Websites Module that we use it for all of the Tentaroo sites, including this site and the user manual sites.
Benefits
Designed for a clean, polished look on all devices, including mobile.
No programming experience required.
Interactive council calendar with unlimited secondary calendars.
Entire site always runs on secure encrypted connection.
Unlimited storage and bandwidth.
Communication
Improve communication with your units and families with a modern, professional website. An easy to navigate site is a must to keep your your end users engaged with your council - communicate your mission and values, build event involvement, increase membership, and create ties with your community.
We've designed our templates to encourage consistency in design while providing great flexibility and a polished look across all devices.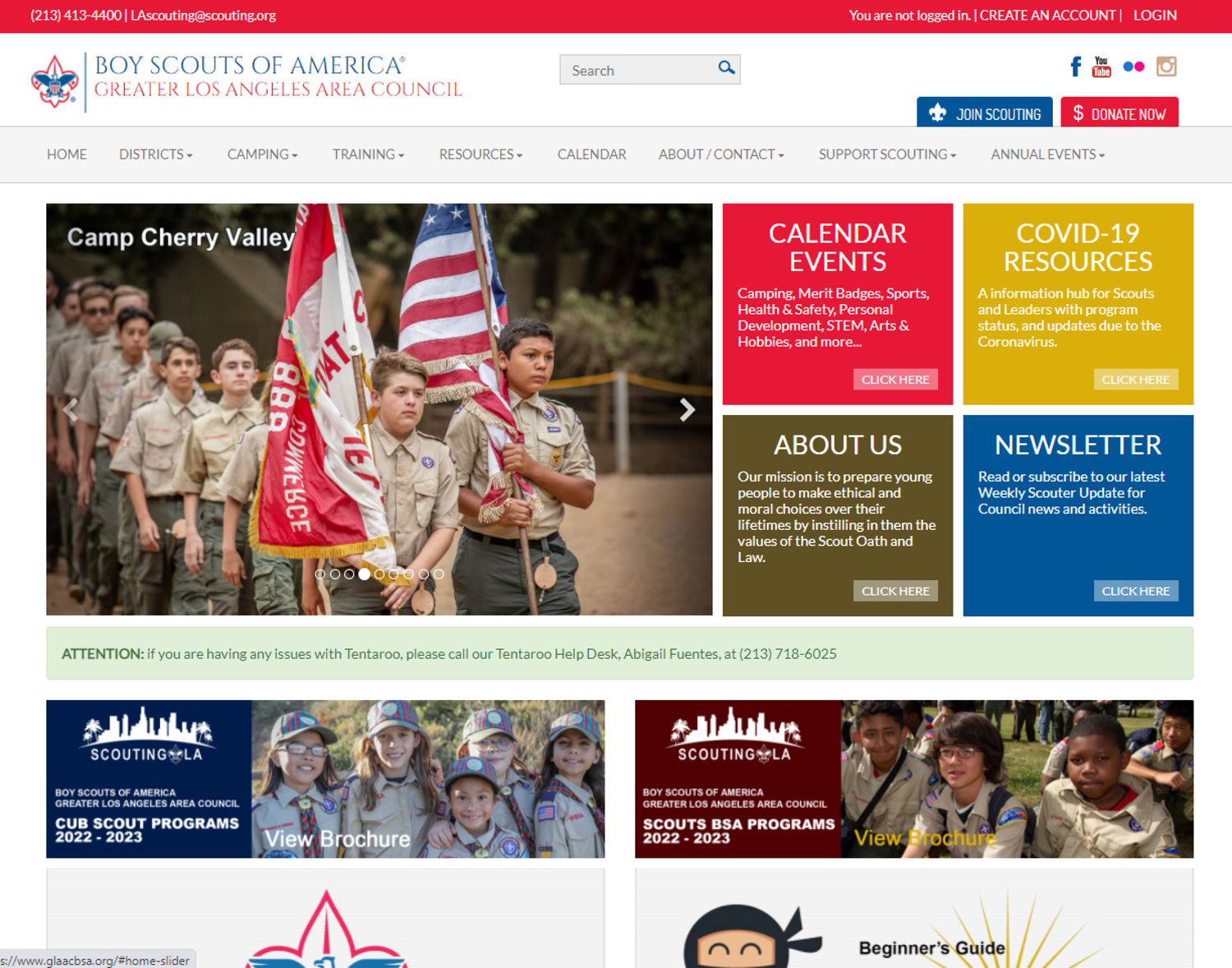 Modern Design
The system allows you to build dynamic pages with pre-built layouts including contacts, resources, social media links, and image galleries.
Pick any combination of options and you'll get a professional design that works everywhere, on any device.
Mobile Optimized
Our responsive designs work equally well on all platforms - including desktop, tablet, and smartphone devices.
Websites are optimized for the mobile experience so your users can expect a streamlined, consistent experience no matter what device they use. This also improves Google search rankings.
Over the next few years, the importance of a strong mobile web presence will only continue to grow. The Tentaroo Websites, Events, and Facilities Modules have already been designed to meet the mobile browsing requirements of tomorrow.
Nearly three quarters of the world will use just their smartphones to access the internet by 2025. (CNBC)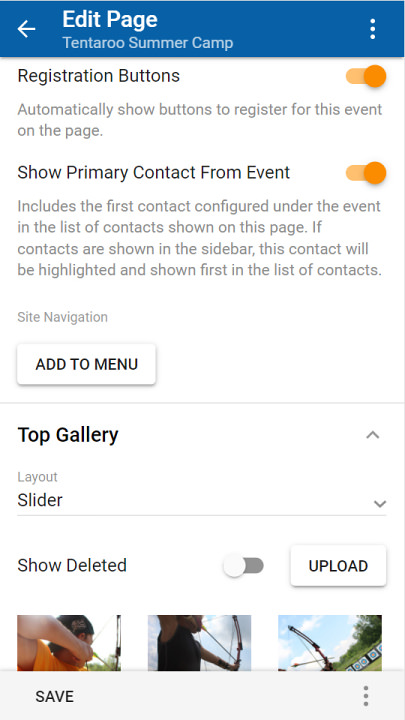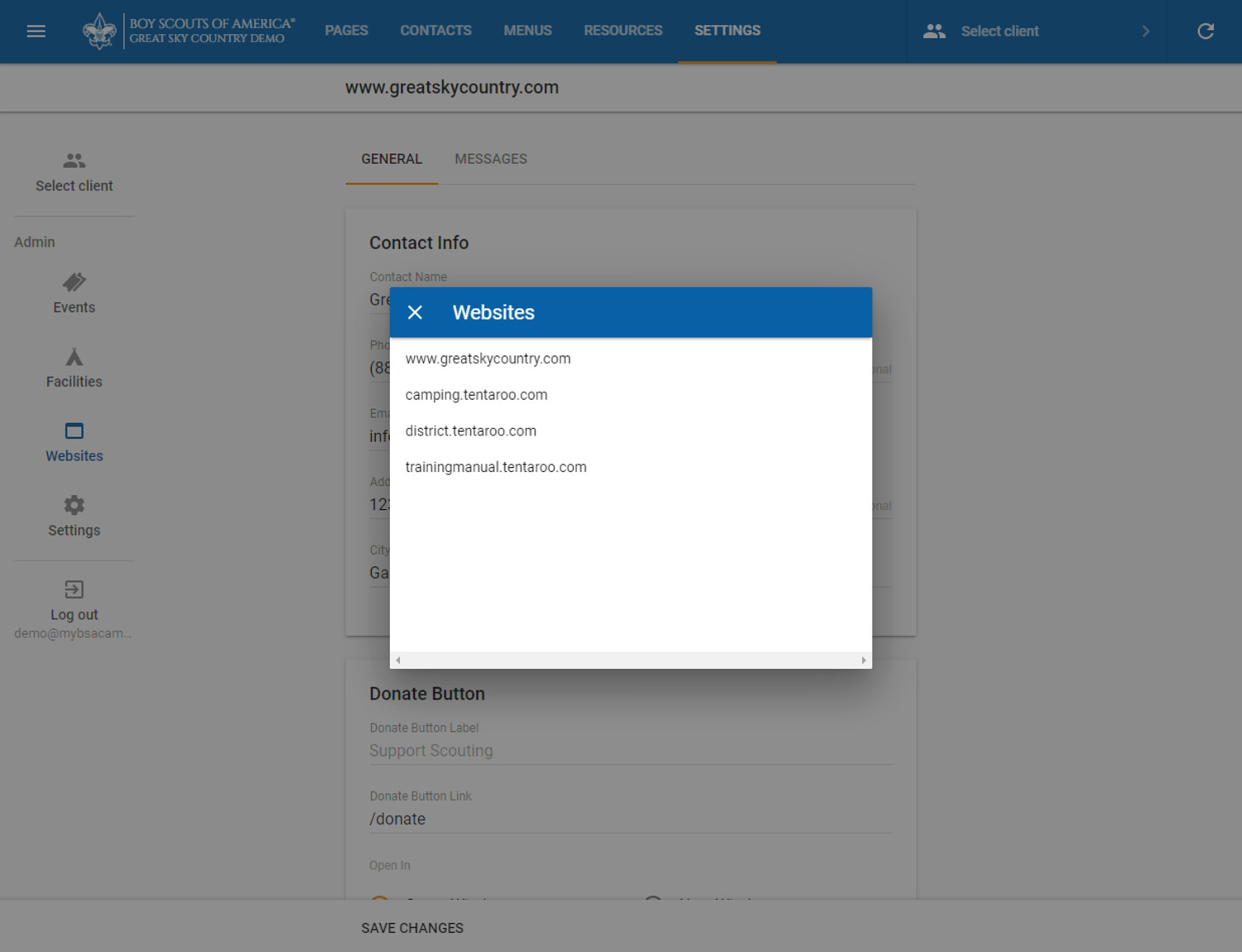 Integrated
Manage multiple websites along with your events and facilities all in one system. Your site will connect directly with your events and facilities, minimizing the amount of double-entry. This cuts down on your work and reduces the possibility of errors.
Calendars and other content can be shared between sites to help keep everything up to date. District-specific pages and calendars are supported to help your districts communicate with their units and families.
Includes Form Builder
Simple yet powerful forms can be used to receive donations, camp staff applications, and simple event registrations (like a fundraiser).
For more information, see the Form Builder section under Year-Round Events.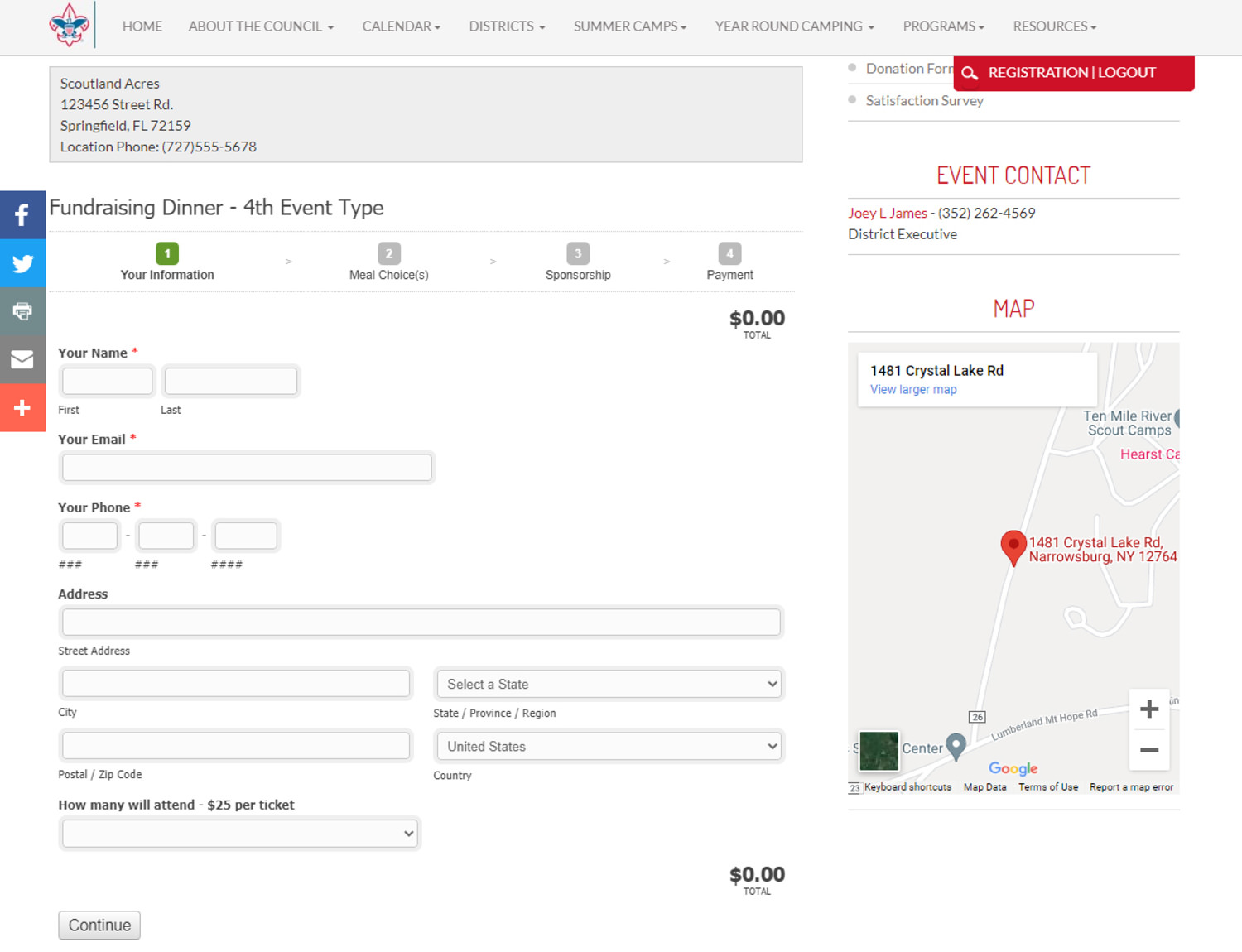 Websites Module Pricing
Primary Website - INCLUDES 1 free summer camp website
$1,599
/yr
One-Time Setup Fee: $795
SSL certificates included.
Additional Websites (3+)
$480
/yr
One-Time Setup Fee: $295.
Add additional sites for other camp programs or your OA Lodge. SSL certificate included.
Subdomain Websites
$150
/yr
One-Time Setup Fee: $30.
Sub-site below any of your sites, with the same styling. For example, districtname.yourcouncil.org. SSL certificate included.
Website & Form Builder Maintenance
We'll handle your updates, edits, and image changes so that you don't have to. Please contact us for more details.
As little as

$70

per hour.
Plans: Hourly: $90/hr. 10 prepaid hours: $75/hr. 20 prepaid hours: $70/hr.
Start Your Transition Today!
All of the benefits of our Websites Module and Form Builder are available to any council regardless of size and are supported with our outstanding customer service and training assistance. Our knowledgeable and experienced customer service team is always happy to answer questions or help with building your websites.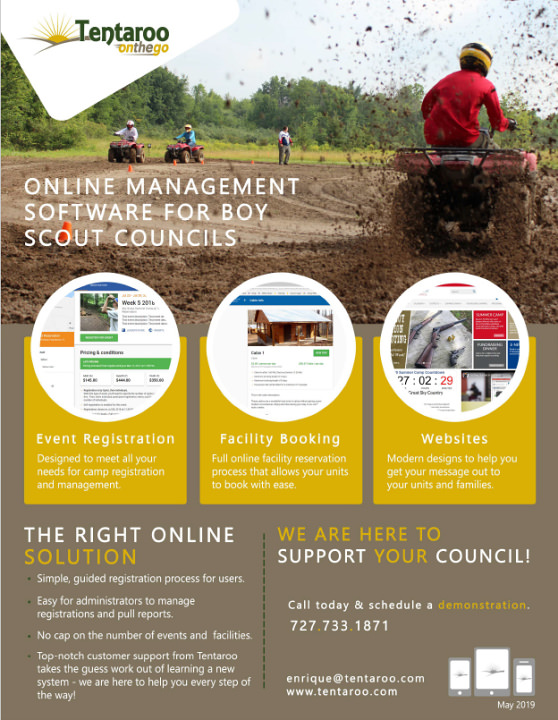 Success Story
Crossroads of the West Council
Trapper Trails (now Crossroads of the West) was looking for a better solution to manage their council's needs and they reached out to Tentaroo for help. At the time the council was frustrated with poor support from another supplier and needed an all-encompassing program that could handle all of their council requirements, including website management.
Trapper Trails switched to the Tentaroo Websites module and was very pleased with the change! They commented on our better website aesthetics as well as how easy it was to learn the new system in dealing with training from staff turnover. Trapper Trails also noted how easy it was to use our system, with no need to learn coding, and the council needed fewer people to manage their website!
What our Councils Say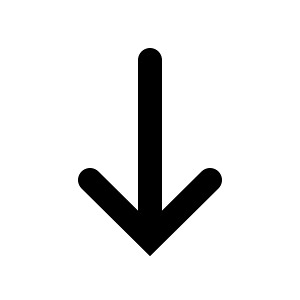 "If you have zero web maintenance experience (like me!), you will thoroughly appreciate Tentaroo! There is a lot to say about the capabilities of its modules, but the approachable and attentive customer support is what makes this particular provider truly amazing.
24-hour service isn't possible, but their team makes it a very near possibility with an online manual and videos in addition to their Zoom sessions, emails, and calls. The team is responsive to my Council's needs and is always willing to help find a realistic way to our goals."
Wendy Tateishi, Camping and Activities Registrar, Verdugo Hills Council