Summer Camp
The Tentaroo Event Registration Module has everything you need to run a successful summer camp, including core features like class scheduling, camperships, and invoicing.
Setting up weeks of summer camp is a fast and simple process. Afterwards, important event details will be shown to your users to reference at any time. This includes pricing, availability, and classes offered. Additionally, your summer camp can be enhanced with a Tentaroo website - adding an integrated calendar, camp specific pages, and real-time class schedule display.
Benefits for Council and Camp Staff
Communication
Reduce your workload by utilizing our Invoicing and Message Center tools throughout the year to send updates to your registrants.
Let users access the information they need on their own without needing to contact the council - before, during, and after camp. End users can access real-time availability, class schedules, pricing, balances due, important dates, and class completion records on their own at any time.
Campsite rankings can be enabled to let your users tell you which campsite they'd like to stay in. Staff can then assign campsites and keep tabs on capacity and availability.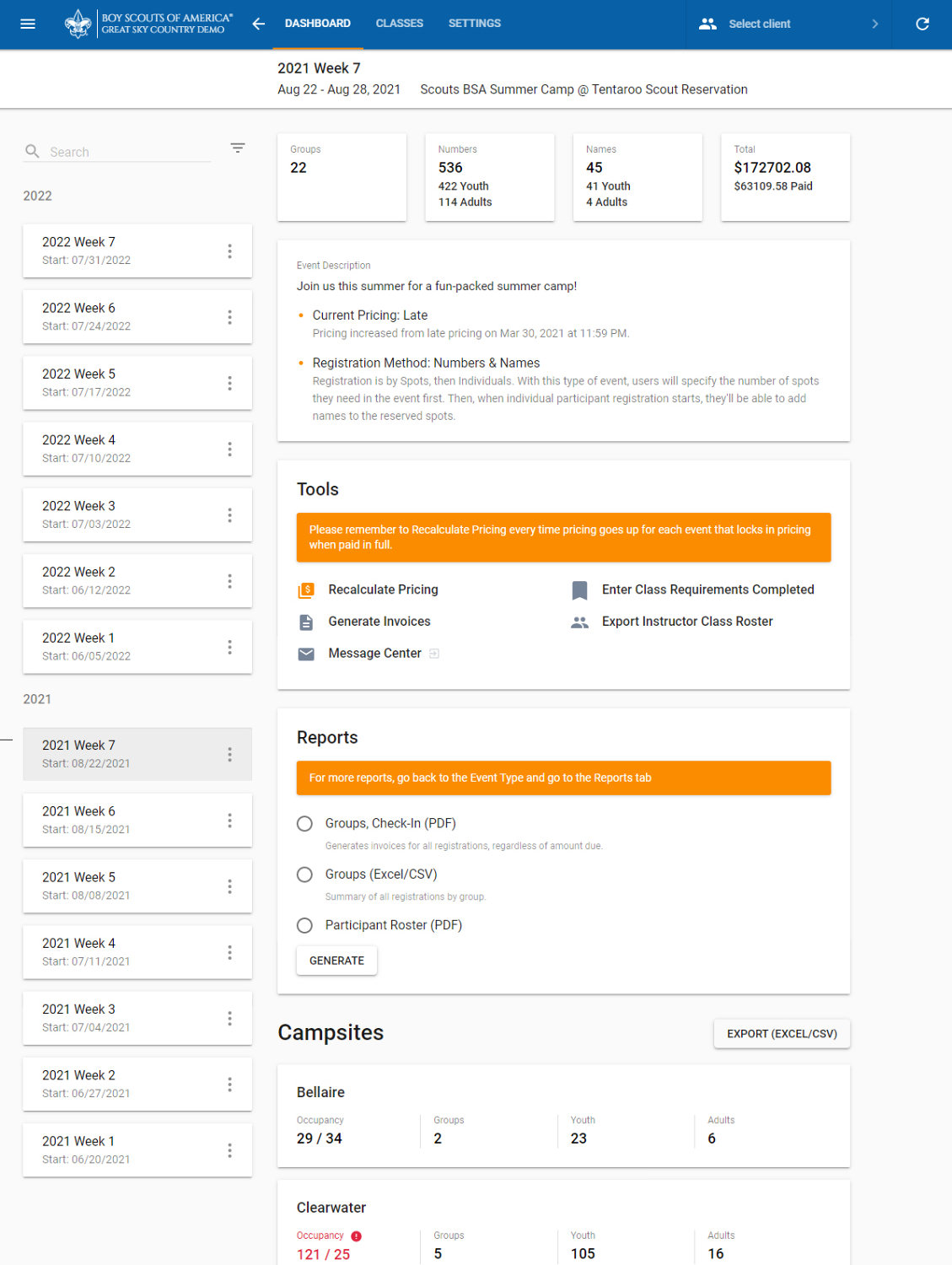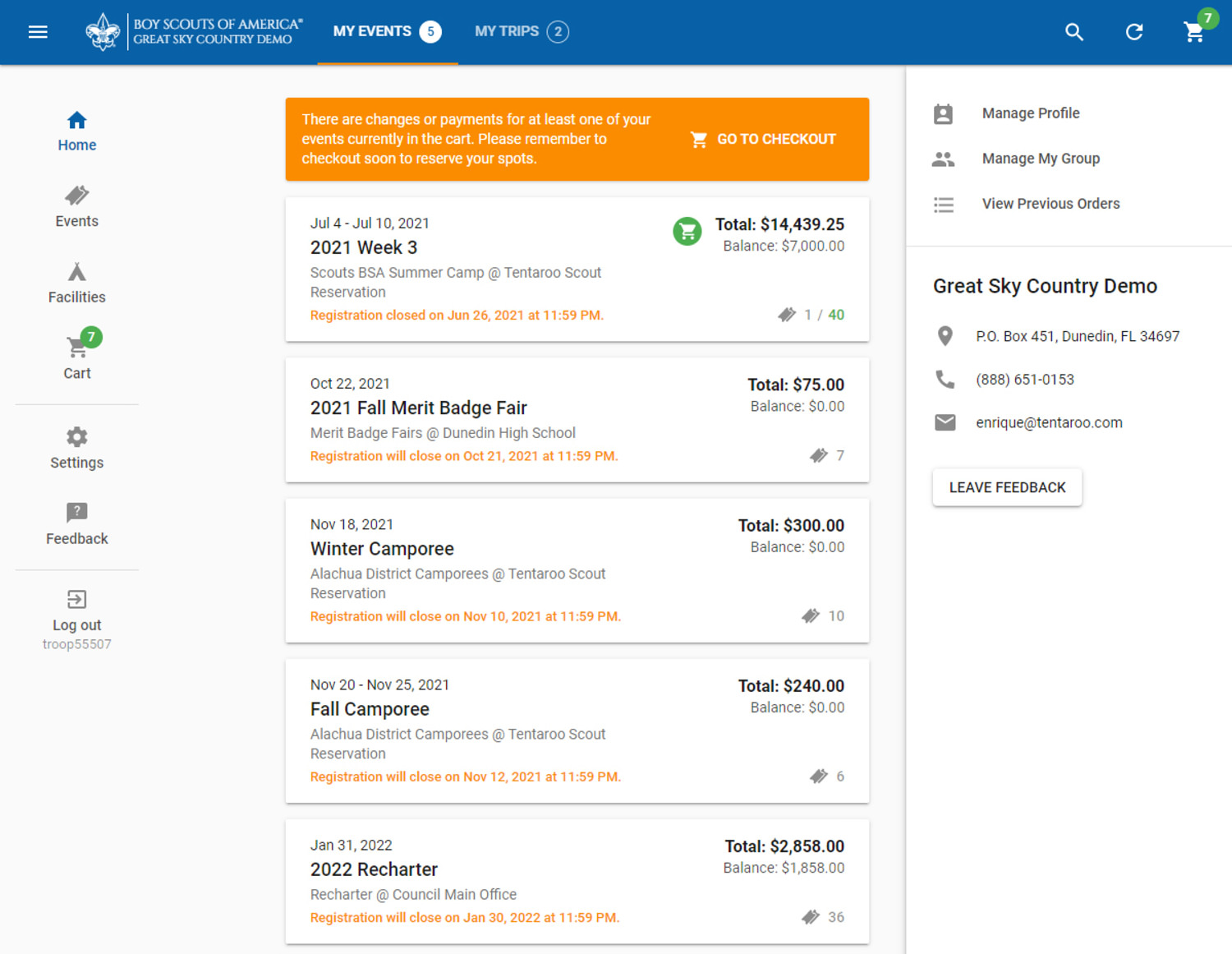 Empower
Allow self-registration to encourage more accurate numbers that will help your camp director develop a budget, order supplies, maximize camp capacity, and free up staff to work on other projects.
Includes detailed reporting for check-in, class schedules, attendance, and advancement tracking.
Pricing
Flexible pricing structures including:
Early / Base / Late pricing by date
Tiered pricing such as in-council, out of council, and provisional
Custom participant types with their own pricing
Campership details are included on invoices with specific amount information for each camper. Camperships and other discounts can be awarded to specific campers.
Also includes support for automated free-leader ratios and multi-event discounts.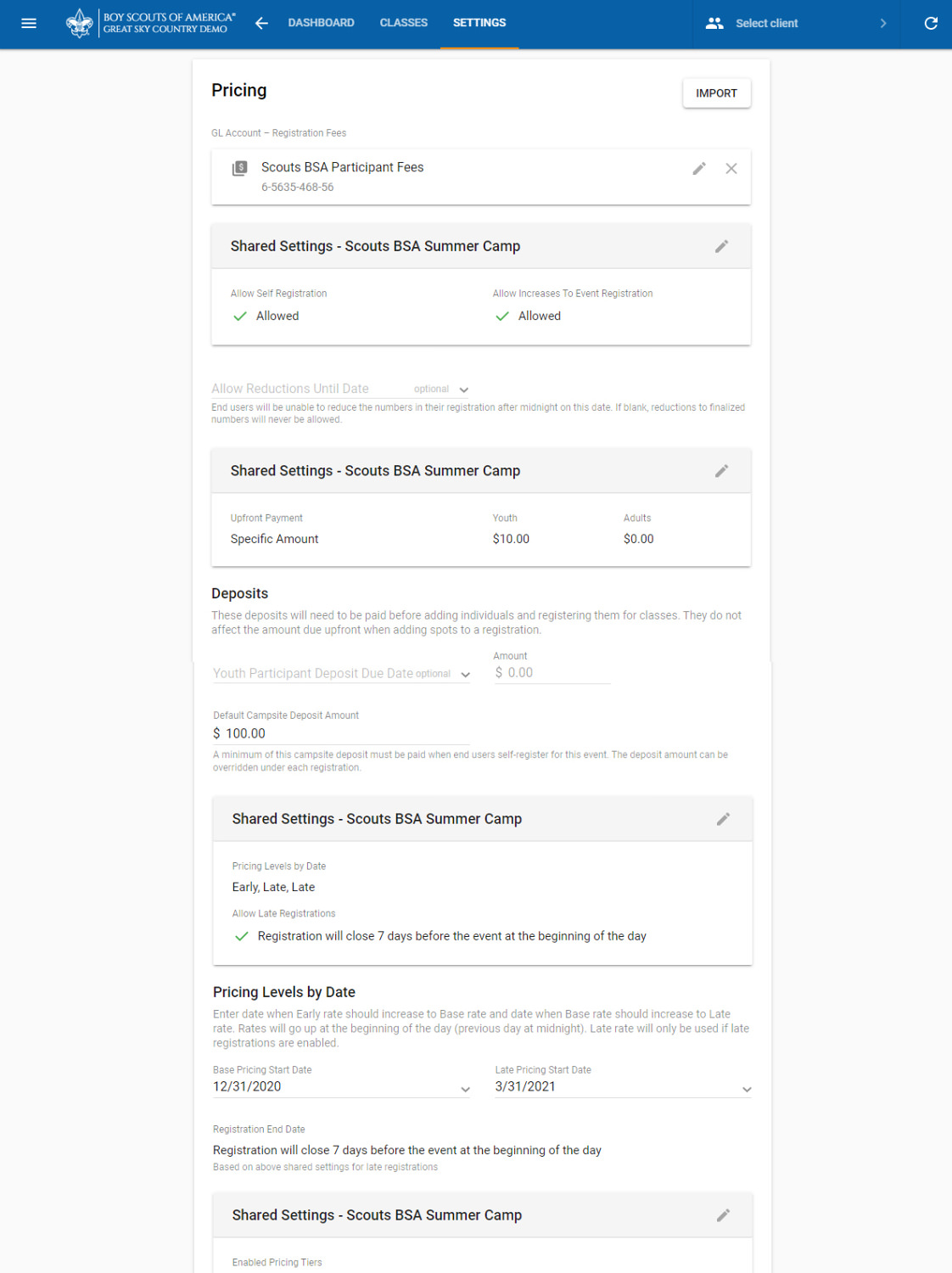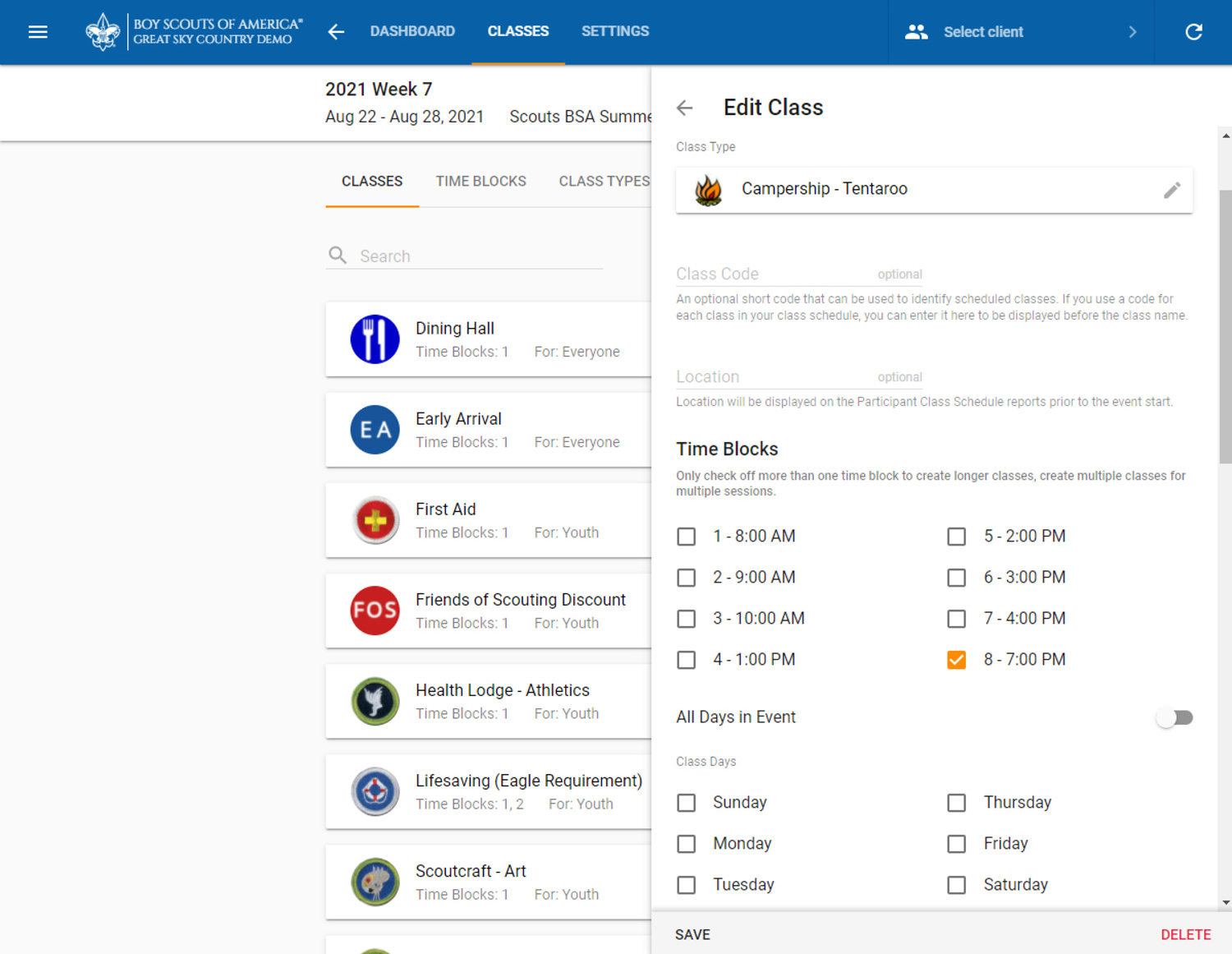 Class Scheduling
Class scheduling is highly customizable with block and/or day-based scheduling, minimum age requirements, combination classes, and waitlisting.
Encourage your users to pay early by limiting class registrations to those users who have met specific payment requirements.
Advancement
Track attendance and requirements completed at camp with real-time updates.
Empower users to monitor advancement updates on their phones at camp.
Any data entered is available indefinitely to both council/camp staff and your end users.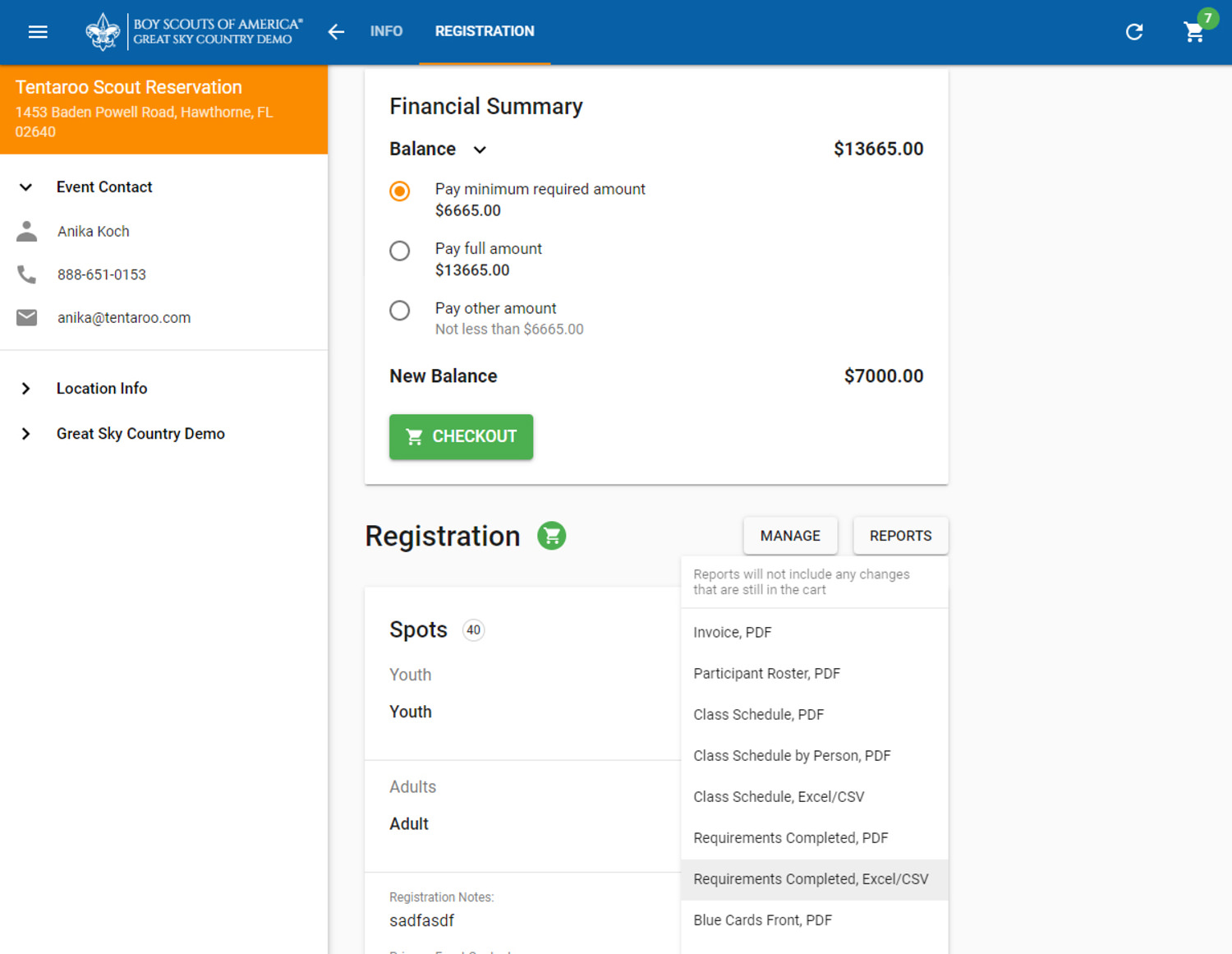 Tracking Merit Badge Requirements
Class instructors can easily enter requirements that have been completed at camp. Then the data can be accessed by the camp, council, and your units using various reports including digital blue cards.
Imagine letting your units at camp use their phone to pull a report on Wednesday, showing which of their Scouts went to class and completed requirements on Tuesday!
All merit badge completion records are archived and can be accessed years later, by both the council and your units. No more calls to the council office, "What did Matthew complete in Basketry two years ago?"
Visit our admin manual to learn about Entering Merit Badge Requirements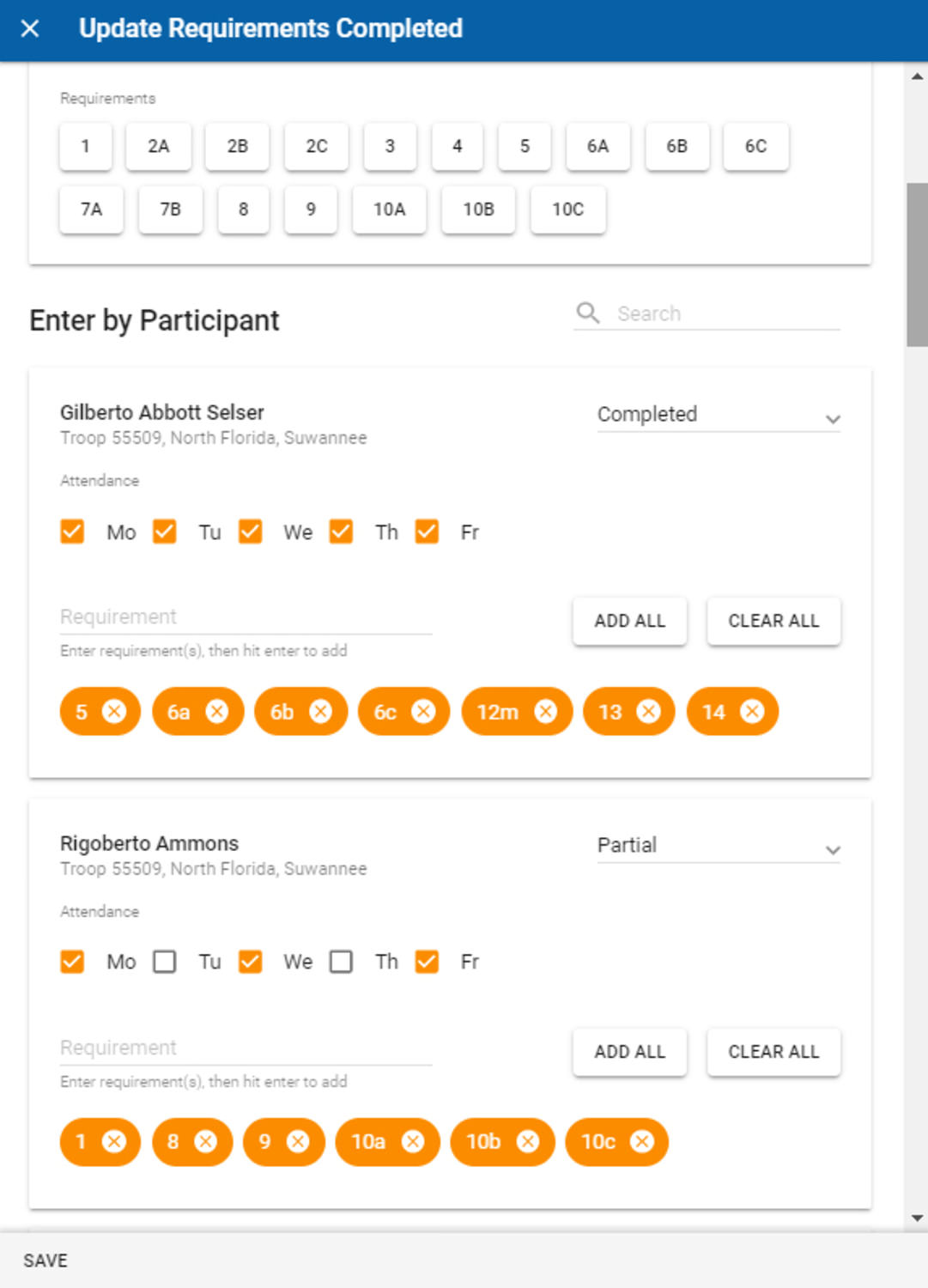 Benefits for Units and Families
Communication
Let your users access the information they need before, during, and after camp.
During registration, guided wizards help users navigate the process and communicate relevant details by including embedded Google Maps, contacts, real-time availability, class schedules and other information for each week of camp.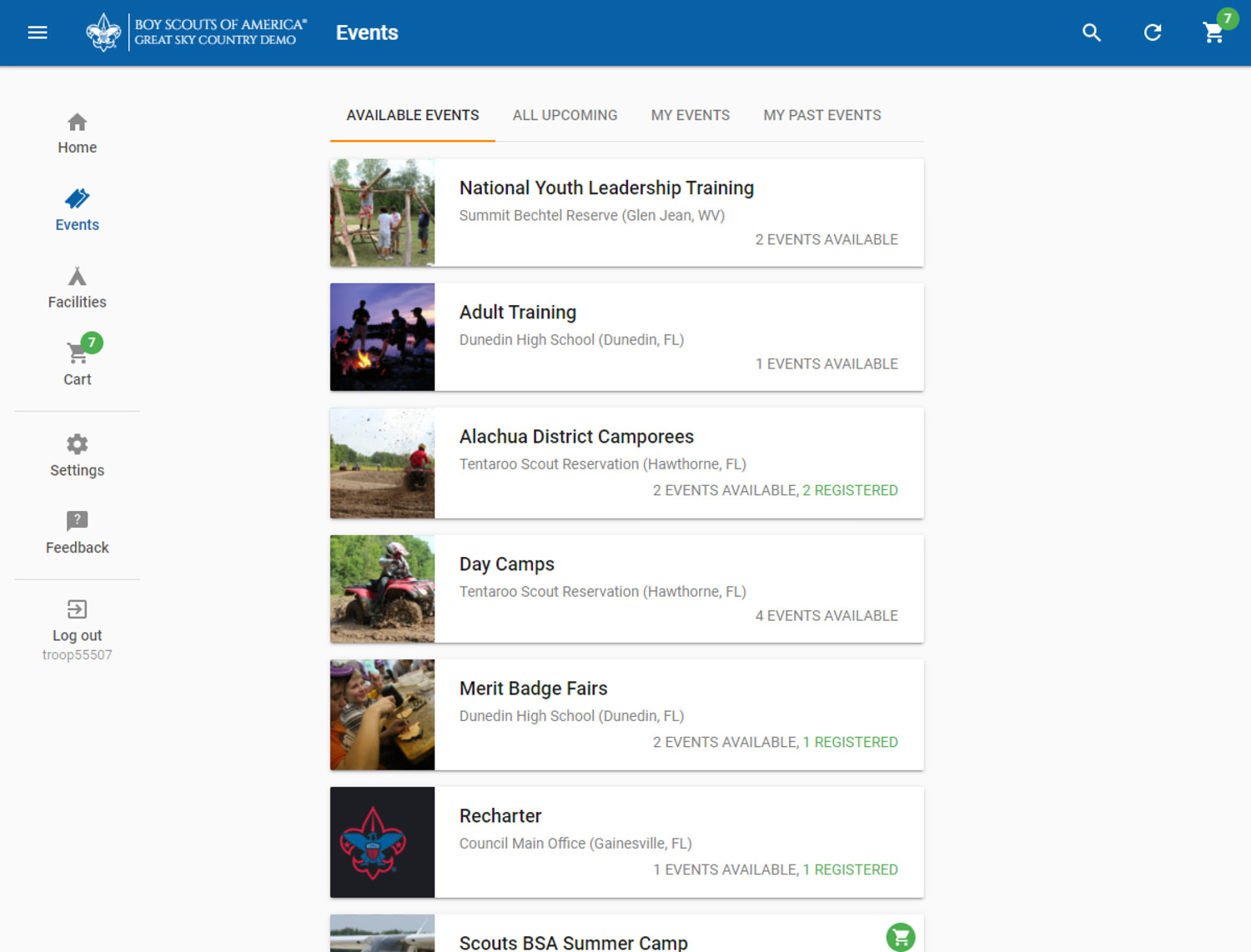 24/7 Availability
Imagine being with a group of families at a troop or pack meeting, discussing upcoming summer camp events. You can open your smartphone and check availability/pricing, then make a registration right away!
Trying to remember if a camper is signed up for a particular class? Log in at any time to view your registration or reports such as requirements completed or blue cards.
Confidence
With our guided class registration system there are no double booked or dropped registrations.
You can be confident that when you get to camp, your class schedules are set and shouldn't require any changes.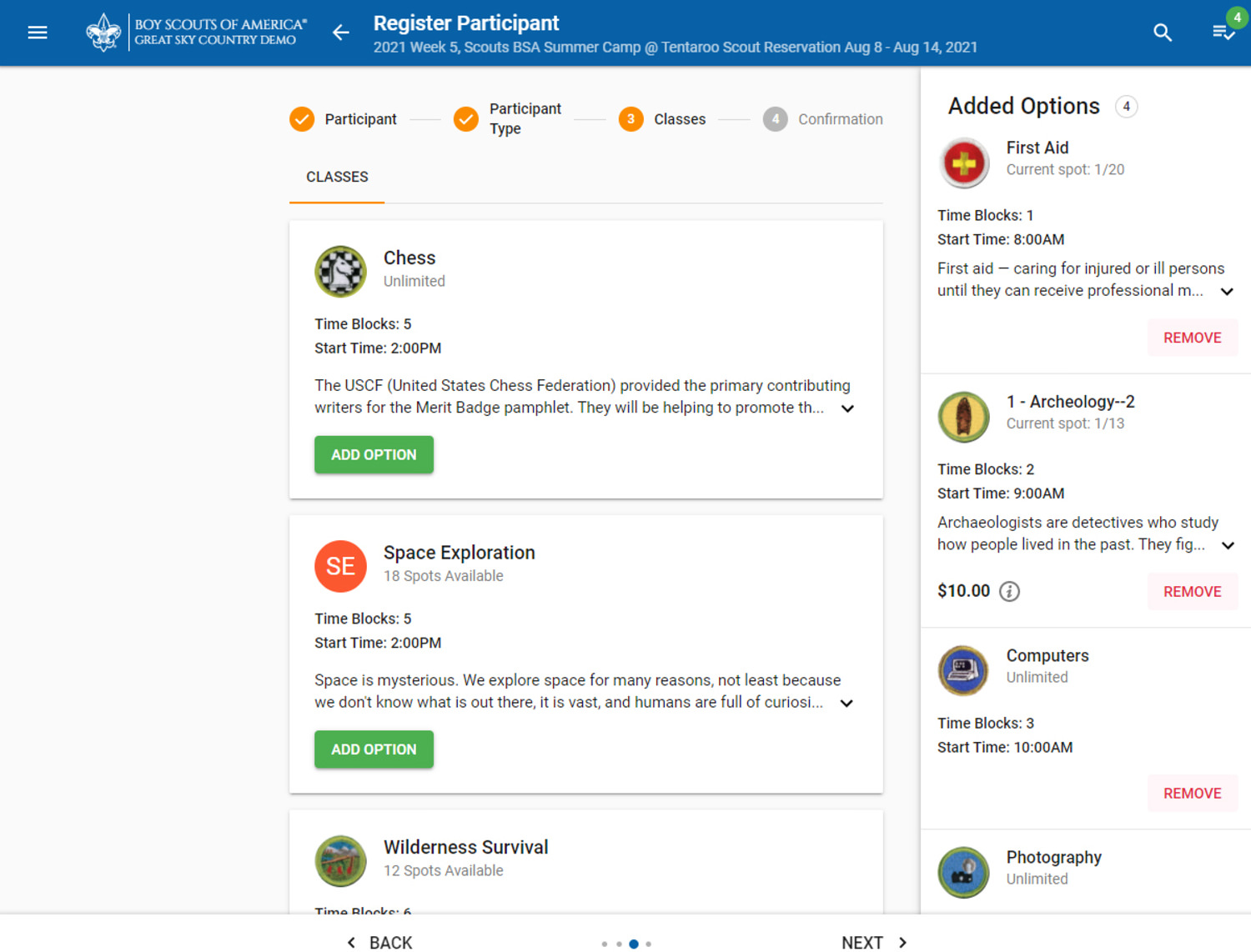 Events Module Pricing
1% fee is capped at $4.00 per person and is based on the registration fees and class fees you charge for your events. No fees for cancelled events.
One-Time Setup Fee: $795
Start Your Transition Today!
All of the benefits of our Events Module are available to any council regardless of summer camp size and are supported with our outstanding customer service and training assistance. Our knowledgeable and experienced customer service team is always happy to answer questions or help with building summer camps.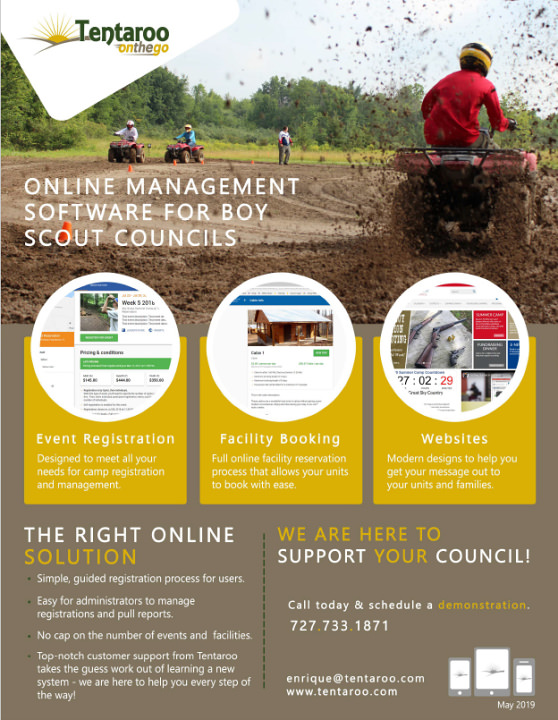 What our Councils Say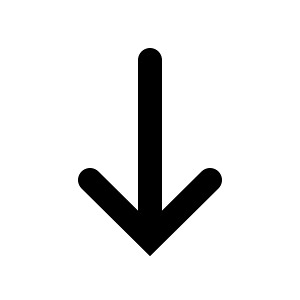 "We held onto our old system for a long time because it was custom built for us and did everything we wanted. However, when we found Tentaroo and learned about all that it could do, making the switch was an obvious choice. Tentaroo simplified everything we were trying to do, from website replacement to summer camp registration system overhaul, into one step. It's worth vastly more than what is charged for it."
Old Hickory, Camp Staff