Year-Round Events
Tentaroo can be used for all of your year-round event registrations, not just summer camp. We often hear from councils that a key benefit of the Tentaroo system is that it provides an integrated solution that runs everything. Council staff don't have to learn and manage multiple systems and your users can register for everything in one place in a way that's consistent and easy to understand.
We offer two options for year-round events registration:
Events Module - The main registration system, designed to offer a consistent, guided process with a full feature set for class scheduling, pricing, and reporting.
Form Builder - Fully customizable, no login required to register. Good for fundraising dinners and other simple registrations, also donations or camp staff applications. Available to all Tentaroo clients.
Events Module
Supports all of the same features as described on the Summer Camp page; however, the registration process can be streamlined for non-summer camp events so families and units can focus on the more important details. The same Events Module can be used in a more lightweight fashion for events like day camps and merit badge fairs, while allowing for consistency and access to the same great tools and reports.
Users register for events through their login account, allowing them to maintain their group members' information from one event to the next with less repetitive data entry. This also allows users to pay over time for events that have a payment schedule.
Registration
Supports participant registration, classes, and products in a simple, guided registration process.
Enable only the features you need for each event.
Perfect for merit badge fairs, camporees, district events, Klondike derbies, leader trainings, and Order of the Arrow events.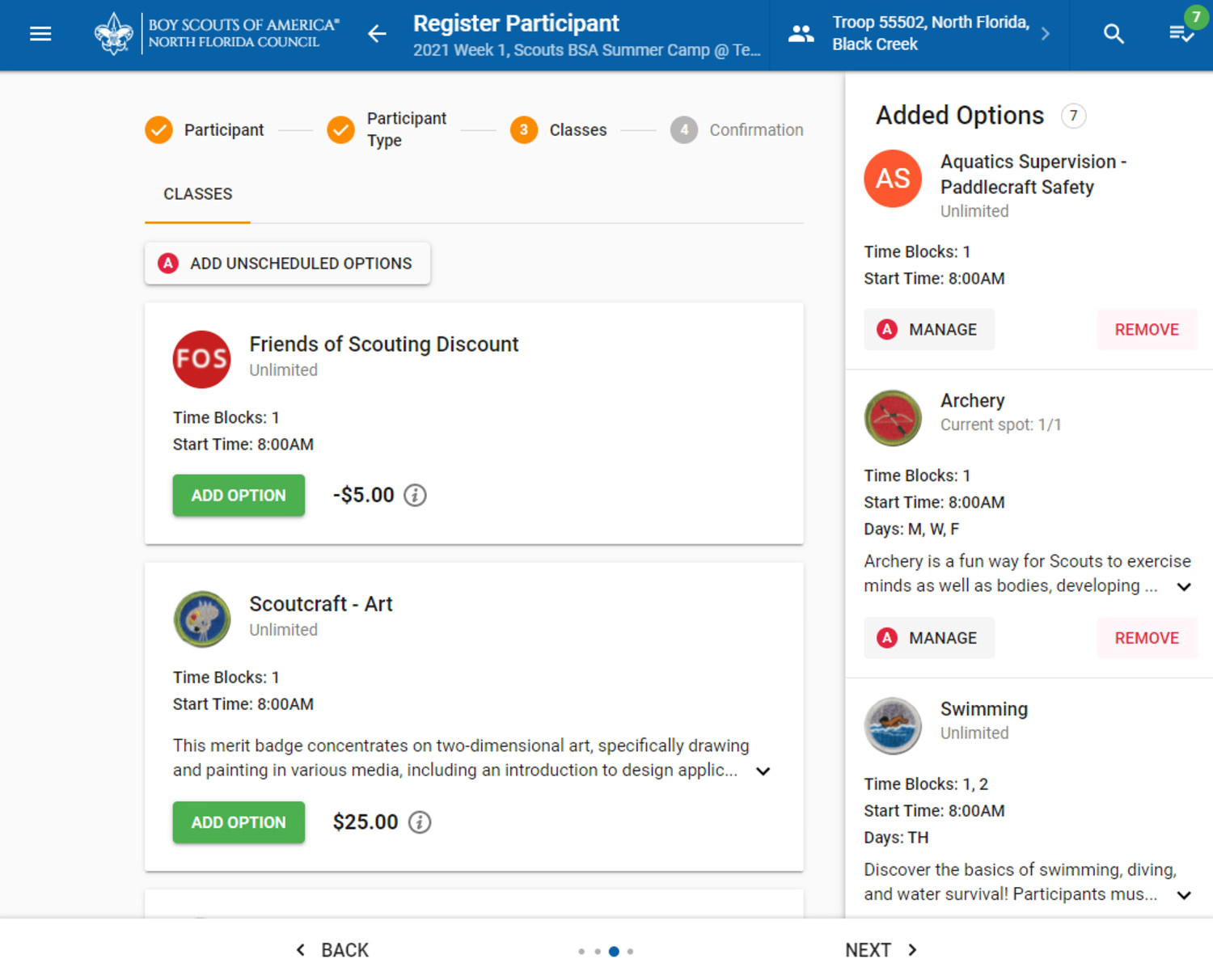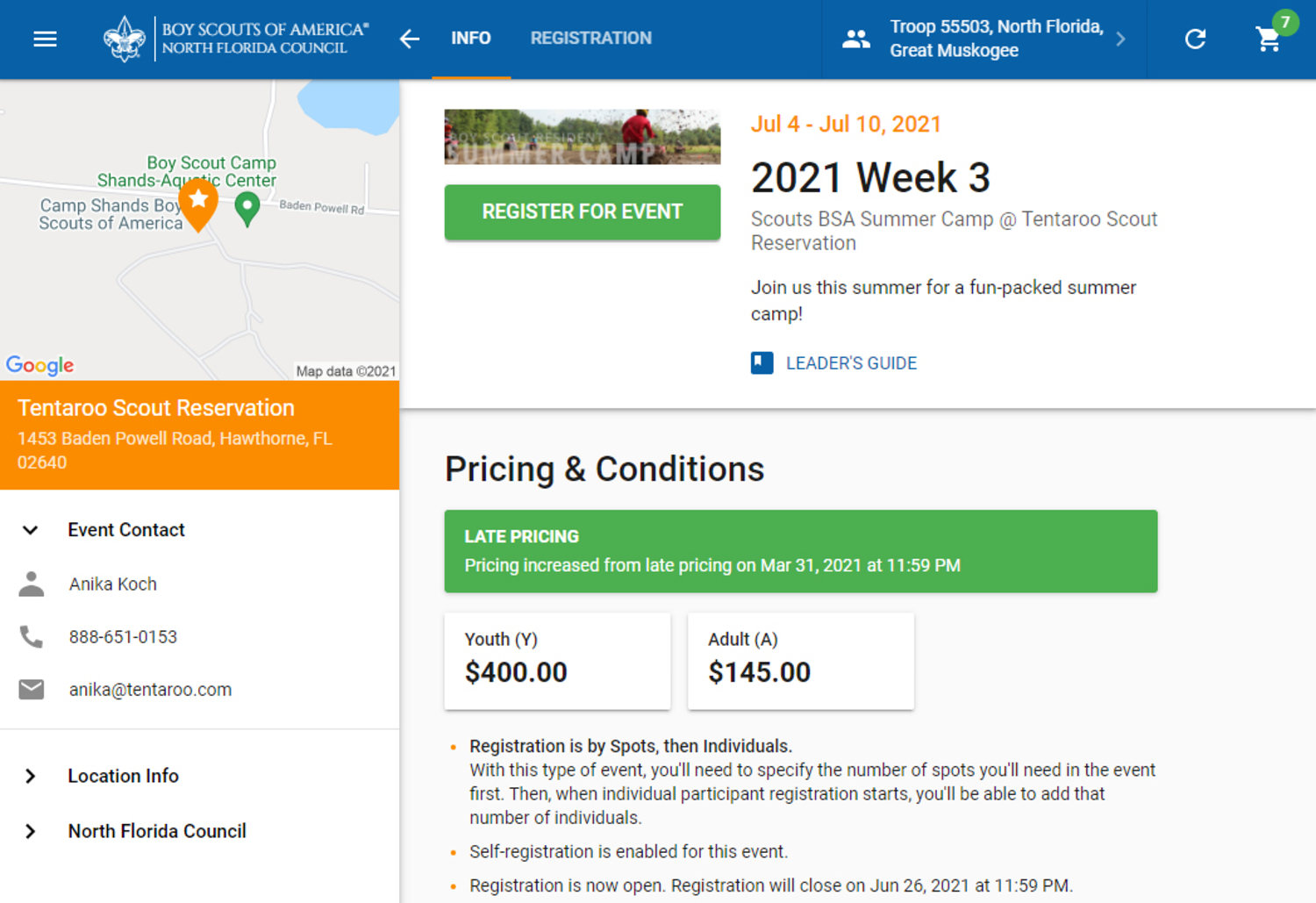 Communication
Clear communication of event details to users, including a Google Map of the location, registration dates, real-time class availability, pricing details, and more.
Admin Tools
A full bevy of reporting options are available similar to the summer camp reports.
Easy-to-use communication features, such as our invoicing system and a message center, to stay in touch with your users.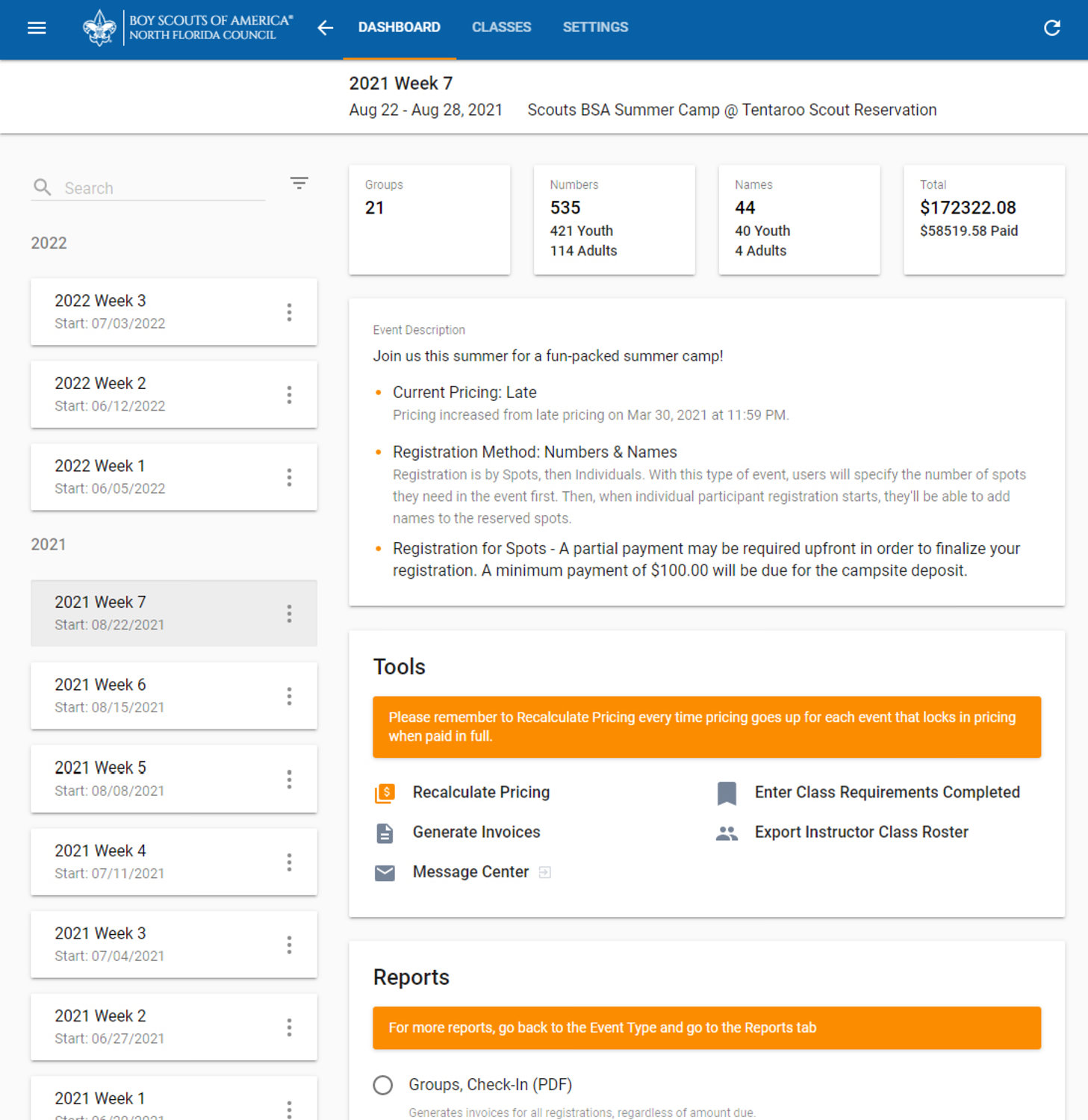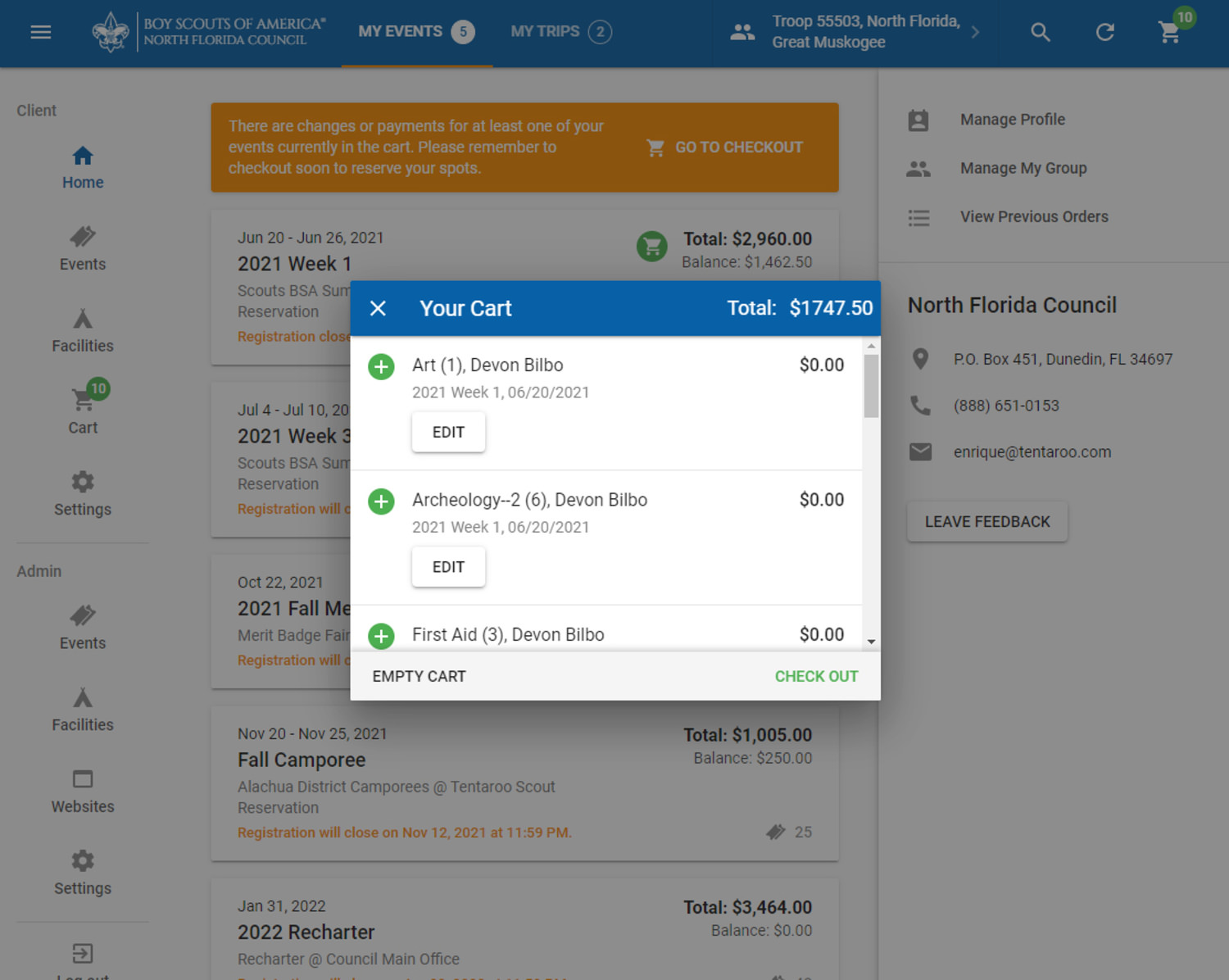 Units and Families
Users can log in at any time to register for upcoming events, schedule classes, and make payments. Units can also generate their invoice at any time for an overview of what's due and why.
After the event, users can log in again to generate blue cards and other reports.
Events Module Pricing
1% fee is capped at $4.00 per person and is based on the registration fees and class fees you charge for your events. No fees for cancelled events.
One-Time Setup Fee: $795
Form Builder
No login needed! Use for quick, one-time event registrations such fundraising dinners.
Fully customizable, can also be used for other purposes such as donations, products sales, or camp staff applications. Entries can be exported and basic reports are included.
The Tentaroo Form Builder is available to all Tentaroo clients.
Customizable
Easy to build. Select a combination of fields and settings to create a dynamic form for your users that collects exactly what you need.
Payments are made online or you can give users the option to pay offline. Supports notifications and basic reports.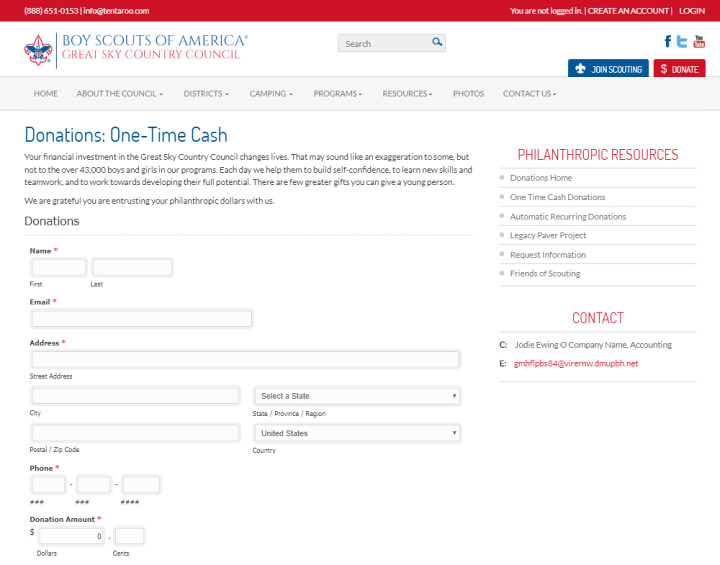 Form Builder Pricing
Included with all other modules, there is no extra setup fee. The 1% fee is based on online payments received through forms.
Setup Fee: None
Start Your Transition Today!
All of the benefits of our Events Module and Form Builder are available to any council regardless of size and are supported with our outstanding customer service and training assistance. Our knowledgeable and experienced customer service team is always happy to answer questions or help with building your year-round events.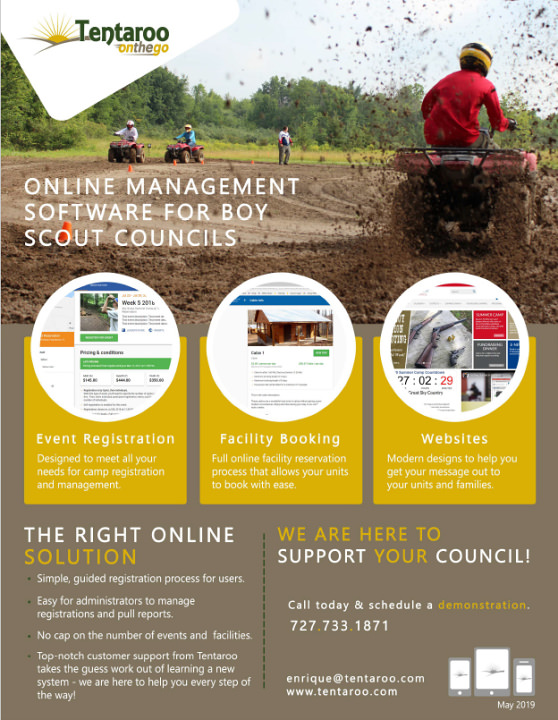 What our Councils Say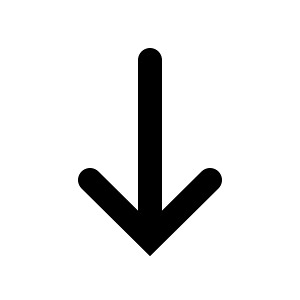 "Simple to use" "Great customer service" "Listens to us"
Cascade Pacific Council